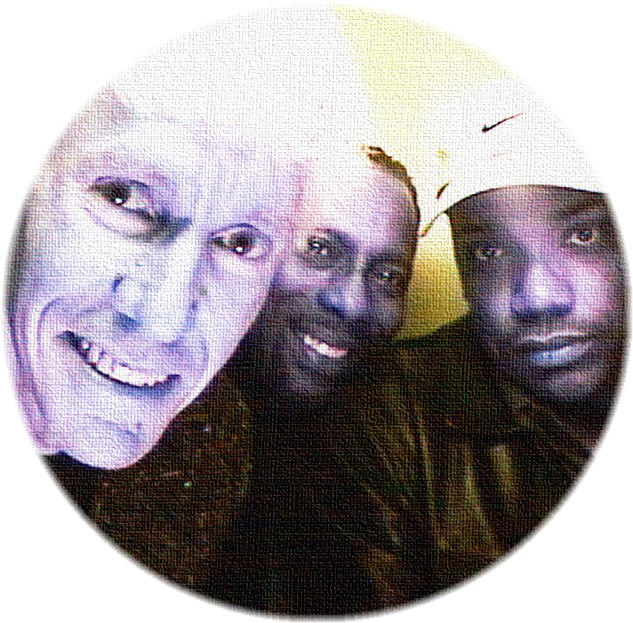 Jazz band KWT4's guitarist Tom Theabo, right; Kevin Wells, at left on bass guitar; and Tony Taylor, drummer, play at Water City Grill on Feb. 22. Shu-Ling Zhou/ of The Northwestern
At a glance

Group: KWT4.
Lineup: Kevin Wells, bass; Tom Theabo, guitar; Tony Taylor, drums.
The project: With a history that began in college more than 20 years ago, the trio combines instrumental jazz with elements of R&B, funk and pop.
Taylor, on the music: "It's so much more timeless than what a lot of the current top 40-type music has to offer," he said. "It sounds just as fresh today as in 10 years from now as it did 20 years ago."

Collaboration of KWT4 has lasted 25-plus years
By Sarah Owen
of The Northwestern

As ambitious college teens back in the early '80s, Tom Theabo, Kevin Wells and Tony Taylor must have held jam sessions in every dorm on the University of Wisconsin-Oshkosh campus.
It was an era marked by big hair, next generation of Motown and the birth of new collaborations in Oshkosh that would last more than 25 years.
The trio, along with Janet Planet and Dave Jahnke, hit the local club scene as R&B infusion Body Talk.
"There wasn't any lack of clubs to play; it was a little different that way with drinking laws, there were more bands in bars," said Tom Theabo, a 35-year veteran composer, arranger and guitarist.
Drummer Tony Taylor remembers many a late show back in the day.
With a laugh, he said, "We're not playing in nightclubs 'til the wee hours of the morning (anymore); a lot of our jobs are done by 9 or 10 at night."
Over the years, the trio has remained connected, but also spun off to incorporate individual projects.
Theabo, a full-time musician and teacher for nearly 40 years, has shared stages with the likes of George Benson and Gene Bertoncini, collaborated with artists like Planet and released original arrangements on "A Fine Sample."
"Tom is a force of nature, an incredible guitarist and arranger," said Kevin Wells, KWT4 bassist.
Wells first played professionally 35 years ago in southside Chicago clubs and has been part of numerous local projects (Playtime, The Kevin Wells Project, Brenda Theabo Quartet) and collaborations since.
Taylor also has joined forces with greats like Chris Swanson, John Harmon, John Gibson and Tom Washatka, and shared a stage with Chuck Mangione while running a recording studio.
The trio reconnected as KWT4's current lineup a couple years ago, and has been a favorite at places like Water City Grill and Season's ever since.
Combing instrumental jazz with contemporary elements of R&B, funk flavor and pop influences, the musicians bring experience, proficiency and an undeniable connection to jazzed-up KWT4 versions of songs by artists such as Joni Mitchell, Stevie Wonder and Marvin Gaye.
"It's a lot more natural, instinctual," Taylor says of their playing, decades after their Body Talk days.
"We all have such a common thread between what we like, what sounds good to us, what feels good to us; it weaves itself together and when you perform it, it becomes one."
Sarah Owen: (920) 426-6671 or sowen2@thenorthwestern.com.